Sunday, April 29, 2012
.
Results
. 18:21, 19th overall, 4th place in age group (missed placing by 4 lousy seconds).
Coolish day in the mid-50s, light breeze about 10mph. Went for a short warm-up with Matthew. Lined up about 3 rows back with Mike B. Pretty cool literal "shotgun start" with a state trooper firing a shotgun over the woods. I was mostly passing runners for the first mile, including passing my old nemesis and good runner Dave S, who used to most always beat me. I'm guessing he's slowed a tad since turning 50; uh-oh, that's not far away for me.
Back on point: I finished my 1st mile in 5:49, a solid pace for me that I'm pleased with, but as usual, my 1st was my fastest and my 2nd the slowest (5:58). Between mile 2 and 3 I passed and got passed by the same guy about 3 times. By the time I turned off Ocean Road and headed into the wind for the final stretch, I didn't have much left. Hit the 3 mile mark in 5:52 and sprinted the final 0.1 in a 5:24 pace, but it wasn't enough to hold off the same guy passing me on the home stretch. It turned out he was in my age group and we were fighting for 3rd! Uggh. Had I known that, could I have mustered up enough strength to fight faster? I don't think so. I finished in 18:21, which was disappointing to me because it was 21 seconds slower than my Super 5K time.
It took me a while to catch my breath, and after that, I jogged back on to the course with the idea to catch up to Matthew and help run him in. Not happening today. It used to be I would run out 1/2 mile or so and find him, but I think those days are over. I got just around the finish line when I spied him sprinting in. A huge PR for him in 21 minutes flat, 78 seconds off his previous PR! I was so happy for him, but Matthew being a typical runner was later asking why couldn't he get sub 21?!! Sound familiar to all of us, no matter what our pace or goal is?
Justin PR'd AGAIN, Tom got 3rd overall and 1st in his age group, but somehow robbed out of a prize, and the WTAC team took another first (photo below).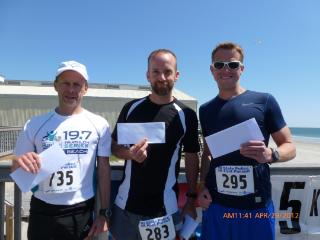 Team WTAC collecting their men's team winnings:
3 dinner-for-2 certificates to Texas Roadhouse



Stealing a page from Tom:
Highlights
: fun day on the beach with family and running friends, WTAC victory, new PRs for Justin and Matthew, super organized race (well, except for Tom's award)
Areas to work on
: getting beaten in the finishing stretch sprint, need to shave a few seconds off each mile, need to get back to dreaded speedwork after the marathon, try to drop 2-5 pounds